King Abdullah: give Palestinians their rights
Comments
By
Euronews
with
REUTERS, APTN, ISPI, UNHCR, ONE EUROPE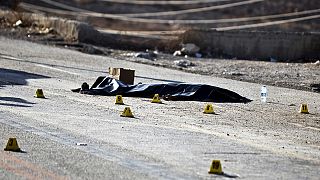 The Italian Prime Minister has outlined his long-term solution to the turmoil in the Middle East.
Speaking at the opening of the Mediterranean Dialogues conference in Rome (MED 2015), Matteo Renzi called for a unified strategy to combat extremism.
He also criticised the harsh statements about Muslims emanating from the US primaries campaign.
Renzi meets King Abdullah II ahead of Mediterranean Dialogue https://t.co/MUkt8P4a08pic.twitter.com/T6pbui5y0e

— Ruptly (@Ruptly) December 10, 2015
His Majesty King Abdullah II delivers a speech at the #Rome#Mediterranean Dialogue in #Italy#RomeMED2015#Jordanpic.twitter.com/4waMLthNJd

—

RHC

(@RHCJO) December 10, 2015
The Italian prime minister was followed by King Abdullah II of Jordan.
He told delegates the only way forward for Syria is a credible, inclusive, non-sectarian future preserving the country's unity and independence.
He also called for more rights for Palestinians.
"Today is International Human Rights Day, but until the Palestinians achieve their rights, millions of people around the world will be cynical about the reality of global justice. Now terror propaganda and recruitment thrive on this conflict."
There has been an surge in violence between Palestinians and Israelis since October.
3 Israelis Injured in West Bank Car-ramming Attack https://t.co/UK2QL8cmav

— Your Lifestyle Spot (@xeniavanza) December 10, 2015
Three Israelis were wounded on Thursday when their car was rammed in the West Bank.
At least 106 Palestinians have been killed by Israeli forces in clashes across Israel, Jerusalem and the West Bank.
19 Israelis and a US citizen have also died in shootings, stabbings and car-rammings.
Prime Minister Renzi and King Abdullah have been joined in Rome by other policy-makers and stakeholders from around the Mediterranean to share ideas and best practice on how to take the region forward.
Who is invited?
150 stakeholders from the relevant governments, parliaments, international organisations, business and civil society in countries on the northern and southern shores of the Mediterranean are there.
40 separate countries are represented at the event.
A new narrative for the region
How can cultural dialogue make the two shores of the Mediterranean closer? Let's talk about this at #RomeMED2015

—

ISPI

(@ispionline) December 8, 2015
Different political systems, challenging socio-economic conditions and the juxtaposition of three great monotheistic religions combine to make the Mediterranean a volatile region.
The MED – Rome Medirerranean Dialogues is meant to give fresh impetus to relations in the area.
Created by the ISPI international relations think-tank in Rome, the aim of the forum is to stimulate ideas, to look at famiiar problems from a fresh perspective and to share best practice both at regional and international level.
Discussions during the three-day programme are organised around four main themes:
Shared Prosperity
Migration
Shared Security
Media, Culture & Society
Did you know?
22 countries border the Mediterranean
Total 2010 population was 466 million
529 million predicted by 2025
Average

GDP

North Med:25,853 euros
Average

GDP

South Med:4,958
Very sharp divide in

GDP

per capita; wealth gap is 1.5 (

WEF

2011 )