ISIL militants raising funds by selling looted antiques
Comments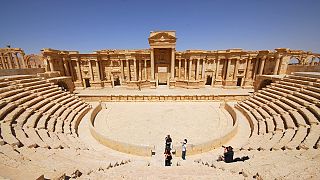 There are growing calls for stricter international controls to stop ISIL militants making money by selling looted antiques on the black market.
France is one of those warning that precious objects from historic sites such as Palmyra in Syria are ending up in the hands of western dealers.
Deborah Lehr, the Chair & Co-founder of the Antiquities Coalition, said: "Your average customs official will know if he sees a kilo of cocaine, that it's automatically illegal.
"But if they're seeing an ancient pot, they don't know in some cases whether it's just a tourist trinket or if it's a 3000-year-old urn."
What they don't destroy, ISIL is selling with forged documents, and experts insist there has to be more vigilance to spot looted items.
Richard Kurin from the Smithsonian Institution, a major museum and research organisation, said: "There are some collectors on the market who've actually said right out that a way to protect this material is to buy it.
"Of course, that's a fallacy, it just means the price provides more incentive for ISIS (ISIL) to loot more and sell more and make more money."
Some countries are circulating lists of items likely to be looted from Syria and Iraq, and many museums are signed up to a database of suspicious objects.