Canada to welcome first charter flight of Syrian refugees
Comments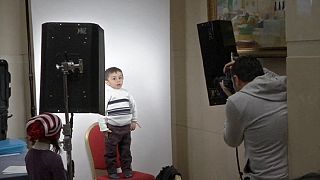 Canada has made extensive preparations to deal with the 25,000 Syrian refugees it has pledged to resettle by the end of February. The first of daily charter flights with 350 individuals on board is due to land Thursday.
With so many refugees coming and in so short a space of time Ottawa has said it will use also military planes to help in the so called "air lift".
Canada's Immigration Minister John McCuallum has been at pains to reassure the public there is adequate security screening in place.
"If one of the officials doing the interview has any reason to question an individual case, well, that case will be put to the side, and he or she will go on with their cases. So, I think that is one of the elements explaining why our security measures are sound".
The government has however been criticised over its decision to exclude unaccompanied, heterosexual, single adult men from the programme over security concerns.
Canada is taking refugees from Lebanon and Jordan where around 500 embassy officials have been processing potential immigrants, some of whom have been living in camps there for years.
One Syrian refugee who had escaped from the fighting in Aleppo said: "You know what it's like in our country, in Syria, I don't have a home, I lost everything there. I'm looking for a new life for my children and me."
The terrorist attacks in France last month have heightened security concerns over accepting the refugees but Canada's newly elected Liberal Prime Minister Justin Trudeau said that "resettling refugees demonstrates our commitment to Canadians and to the world that Canada understands that we can and must do more."
Once the new arrivals have been fully provesed they will be regarded as permanent residents of Canada.
Trudeau to greet first planeload of Syrian refugees in Toronto on Thursday https://t.co/LjHgf1uVpM

— Globalnews.ca (@globalnews) December 9, 2015