Argentina: the dawn of a new era
Comments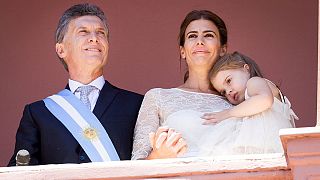 Argentina gets a new president
Mauricio Macri is centre-right
Predecessor Cristina Fernandez boycotts handover ceremony
Macri vows to work for "all" Argentinians
Mauricio Macri has been sworn in as president of Argentina.
The 56-year-old has vowed to tackle poverty, corruption and drug trafficking.
Argentina's new President Mauricio Macri sworn in https://t.co/8DY9fFUWSh via todayng</a> <a href="https://t.co/rsEPyQSn58">pic.twitter.com/rsEPyQSn58</a></p>&mdash; Nigeria Newsdesk (NigeriaNewsdesk) December 10, 2015
Avião de Dilma fica retido no ar e presidente perde a posse de Macri no Congresso. https://t.co/SATm5AtoU6pic.twitter.com/tT3ma8Flpx

— Jornal O Globo (@JornalOGlobo) December 10, 2015
Cristina Kirchner 'creating as many problems as possible for the new government' https://t.co/K7krh9jmlCpic.twitter.com/fCkZ1TWq73

— Telegraph News (@TelegraphNews) December 7, 2015
His predecessor, Cristina Fernandez de Kirchner, boycotted the ceremony due to a row over where the handover of power should take place.
It is the first time since 1983 that a president has not attended the inauguration of a successor.
Quiero ser el presidente del trabajo, de las soluciones, de una Argentina unida. #LlegóElCambiopic.twitter.com/M3mb8YKP69

— Mauricio Macri (@mauriciomacri) December 10, 2015
Ya estamos en Casa Rosada. pic.twitter.com/95QkGuLyA0

— Mauricio Macri (@mauriciomacri) December 10, 2015
A brave new world for Argentina?
Vamos Argentina! pic.twitter.com/IZIDDUuJQD

— Mauricio Macri (@mauriciomacri) December 10, 2015
In his inaugural speech, the centre-right Macri promised to work for everyone in Argentina.
He has pledged to oversee a shift from the mainly state-controlled economy run by his predecessor.
The plan includes more free-market policies with an easing of trade and currency controls.
He also wants to improve relations with the US.
'I'm hoping for better things to come': readers' views on Argentina's future https://t.co/lEFCMeGrugpic.twitter.com/MwOzk6sbv6

— Guardian World (@guardianworld) December 10, 2015