Taliban attack on Kandahar airport leaves almost 30 people dead
Comments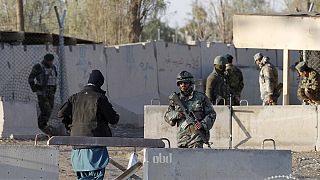 Almost 30 people, including nine Taliban militants, are dead after insurgents attacked the main airport in Kandahar in Afghanistan.
Half a dozen people were earlier reported to have been taken hostage, but there is no word on their fate.
Gun battles between militants and security forces have been going on for hours, and there is no confirmation of the exact number of militants still being hunted.
Some reports say a total of 14 insurgents carried out the raid.
So far there are no reports of any casualties among the NATO military personnel at the airport.
The airport complex, which is also home to a military base, is supposed to be one of the most heavily guarded sites in the region.
Western official says Kandahar Airfield toll may rise to 36 killed, base remains a key focus of US military mission https://t.co/8knotuRfq1?

— Jessica Donati (@jessdonati) December 9, 2015
At least 10 #Taliban fighters dead after Kandahar airport attack in #Afghanistan, said head of Kandahar province pic.twitter.com/ORzhV4cLiE

—

CCTVNEWS

(@cctvnews) December 9, 2015
Video purports to show Afghan Taliban attack on Kandahar airport pic.twitter.com/vH42HAPXOQ at least 10 killed

— Khalid Khan™ (@khalidkhan787) December 9, 2015