Mexico ban at Rio Olympics now unlikely, says IOC
Comments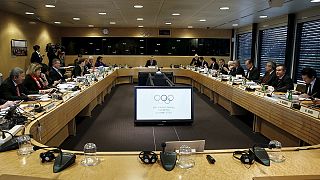 Mexico narrowly avoided a threat of suspension from next year's Rio Olympics, after the International Olympic Committee (IOC) found no evidence of political interference with its sport federations.
There were fears the country might be banned from competing at the Games following allegations the government could intervene in the running of some national federations amid a lack of transparency and missing public funds.
The IOC has always opposed political interference and maintains that governments should respect the autonomy of the Olympic movement.
But the IOC's deputy director general of relations with the Olympic movement, Pere Miro, said on Tuesday the Mexican government at the moment were only issuing threats and had so far not in fact meddled with the country's sports bodies.
"For us this case is not a case," he told reporters, speaking on the first of a three-day executive board meeting in Lausanne. "Politicians can talk, but at the moment if you want to speak about facts there are none. "
"We don't believe there is an important problem or a conflict with the Olympic Charter or autonomy.
In October this year, the IOC suspended Kuwait's national Olympic committee for the second time in five years over government intervention in sports, but Miro said Mexico was not in the same position.
"The government has requested to some national federations to justify the money the government has given to them," he added. "That is more than legitimate, this is completely fine."
The IOC, however, has asked the president of the Mexican Olympic Committee and the secretary general of the Pan American Sports Organization to mediate in the case of any interference with autonomy.
Miro added there had been no progress made on the Kuwait matter, leaving the country's athletes in a precarious position should an agreement not be reached soon.
A stop-gap solution of Kuwaiti athletes competing under the Olympic flag as 'individual athletes' has been floated, as a contingency plan should such a scenario become reality.
Elsewhere, the IOC executive board approved a code of guidelines designed to tackle manipulation in sports, like match-fixing, as they discussed issues of ethics and governance.
"We have called on and we expect all sports organizations to follow this route," said IOC president Thomas Bach, though specific details of the guidelines were not released.
IOC spokesperson Mark Adams said the code would ensure such rules are standardised across all sport disciplines. He added all sports organisations were encouraged to work with judges and referees to uphold the rules.