First-ever red alert for pollution issued in Chinese capital
Comments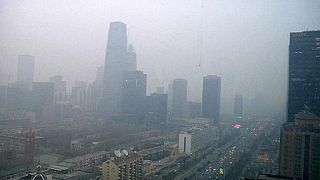 Beijing has issued its first ever red alert for pollution.
As climate change is debated in Paris, the Chinese capital is facing unprecedented heavy smog.
The red alert means restrictions come into force, including road closures, bans on some vehicles and the temporary halt of construction work.
One man in Beijing told reporters: "If I breathe too much of this pollution, I cough and it really bothers my lungs."
A young woman said: "We will have to see how much effort the country is putting into tackling this issue.
"I am sure it will get better, because the country is now paying attention to the issue of air pollution."
Red is the maximum in a four-colour warning system.
Schools are also being urged to close in Beijing, with concern about the health effects, particularly among the children and the elderly.
The Chinese government is vowing to do more to fight air pollution, but faces questions about how it plans to do that in concrete terms.