Yemen hopes Geneva peace talks will end months of violence
Comments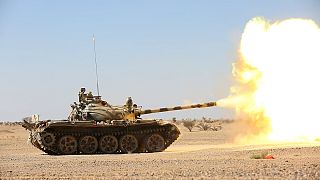 The people of Yemen are pinning their hopes for an end to months of civil war on forth coming peace talks to be held in Geneva next week.
The Yemeni government, Houthi rebels and former President Ali Abdullah Saleh will attend and there's to be a week-long truce to coincide with the UN-backed negotiations.
One resident of Sanna said he hoped the ceasefire would be a permanent one: " We are fed up of the killing and the destruction. We want permanent peace in Yemen."
On Monday the funeral took place of the governor of Aden who became the latest high profile victim when he and six of his staff were killed in a car bombing claimed by ISIL militants.
Some analysts have suggested the talks are timely as there appears to be a growing push to defeat ISIL which can better be achieved if all factions unite.
Since March when the conflict between government forces backed by a Saudi-led coalition, and the rebels escalated, the jihadists have exploited the power vacuum.
At least 5,700 people, almost half of them civilians, have been killed in air strikes and fighting on the ground, according to the UN.
The humanitarian situation has rapidly deteriorated and more than 21 million people now require aid.
321 classroom tents are being distributed to schools across #Yemen. UNICEF_Yemen</a> <a href="https://t.co/VZ1VxCNOAs">pic.twitter.com/VZ1VxCNOAs</a></p>&mdash; UNICEF (UNICEF) December 7, 2015