Pilgrims walk long distances to the Vatican for Holy Year
Comments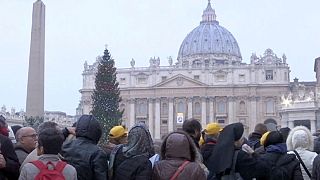 Many Catholics are walking long distances to the Vatican as part of the Holy Year, many arriving in time for the official ceremonies.
An ancient pilgrimage route called the Via Francigena starts in Canterbury in the UK.
In the past Holy Years have been an occasion to encourage the faithful to make a pilgrimage.
Sandra Seminario, a pilgrim from Peru, told reporters: " I have much faith that with this pilgrimage I can get closer to God.
"I'm doing it for my family, for my husband, for my daughter and for myself, so that God will cure us with his compassion and will help us with the many difficulties that we have to face in our life."
Another pilgrim, Manuele De Bellis from Turrita di Siena, said: "This is an historic moment and the world needs compassion and this Pope is giving a strong message and, above all, the most beautiful message was the opening of the Holy Door … and this spreading of compassion, peace and brotherhood should be all over the world."
The last Holy Year was in 2000, when an estimated 25 million pilgrims flocked to the Vatican.