Israeli troops accused of shooting dead Palestinian protester in Bethlehem
Comments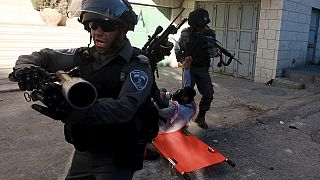 Israeli troops have shot dead a Palestinian protester in the West Bank town of Bethlehem, according to Palestinian medical sources.
The 19-year-old is said to have been among a group of people demonstrating against the soldiers, who had arrived to arrest two men – both of whom were reportedly apprehended.
The Israeli military said violence erupted during "routine activity" when its troops encountered a barrage of "pipe bombs, molotov cocktails and rolling burning tyres and fired warning shots in the air to disperse the mob and prevent an escalation."
In a second arrest raid on Tuesday, Israeli troops detained a Palestinian in the West Bank town of Ramallah in connection with a stabbing incident in October, the military said.
Violent incidents have become a daily occurrence in the West Bank, Israel and Jerusalem in the past two months, as an increasing number of Jews visit East Jerusalem's al-Aqsa mosque compound – Islam's third holiest site, which is also revered by Jews as the location of two destroyed biblical-era temples.
Since 1 October, Israeli forces have killed 105 Palestinians, 65 of whom Israel says were assailants or had been caught on camera carrying out assaults. Most of the others were killed in clashes with police or troops.
One US citizen and 19 Israelis have been killed in Palestinian attacks.