Eagles of Death Metal perform once again on a Paris stage after terror attacks
Comments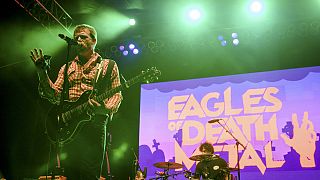 They promised they would return and they've kept their word.
The US rock band Eagles of Death Metal have made an emotional return to a Paris stage less than a month after the deadly attacks during their last performance in the French capital.
The band came on at the end of a U2 concert at the popularly known Bercy concert hall. U2 singer Bono said, "They were robbed of their stage three weeks ago and we would like to offer them ours tonight."
#U2ForParis gave their stage to Eagles Of Death Metal #EODMpic.twitter.com/TytOhpWVSn

— Ed Carty (@EdCartyPA) December 7, 2015
Security was visibly tight at the concert hall as is normal now in Paris with France still being under a state of emergency.
Although there had been rumours on social media that they would appear many of the band's fans seemed surprised and pleased.
''Considering what has happened three weeks ago in Paris, it was surreal to see them on stage playing rock-n-roll," said one fan.
While another added: ''I think, as Bono says, it is a very good therapy for the band. It was the first time, one more time in Paris after a few weeks after the terrorist attack.''
Ninety of the 130 people who died on November 13 when terrorists bombed and shot their way through a Paris suburb were killed at the Bataclan venue where Eagles of Death Metal had been playing. A British merchandise manager working for the Eagles of Death Metal, Nick Alexander, was killed.
Eagles of Death Metal, co-founder said after the shooting that they wanted to be the first to perform at the Bataclan when it reopens.