Obama vows to keep Americans safe in rare Oval Office address
Comments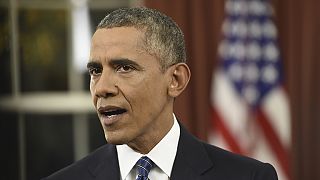 US President Barack Obama set out to reassure nervous Americans in a special address to the nation on Sunday night following the recent mass shooting in California. He also discussed the changing face of terrorism.
"Over the last few years however, the terrorist threat has evolved into a new phase.And its groups like ISIL grew stronger amidst the chaos of war in Iraq and then Syria and as the internet erases the distance between countries, we see growing efforts by terrorists to poison the minds if people like the Boston Bombers and the San Bernardino killers."
Obama's decision to use the symbolic power of the Oval Office for his address reflects growing anxiety that the global showdown with the extremist group may spread to the U.S.
Read the full text of President Obama's address to the nation on terrorism https://t.co/Ga4HeFUF9B

—

TIME

.com (@TIME) December 7, 2015
During his speech he explained what was being done to defeat Islamist extremists – air strikes in Syria and Iraq, their leaders being hunted down with drones and developments in computer technology to attack ISIL funding, But although Obama has been under mounting pressure from the Republicans for a tougher response, he said no to a ground war.
"We should not be drawn into a long and costly ground war in Iraq or Syria. That's what groups like ISIL want. The strategy we are using now… air strikes, special forces and working with local forces who are fighting to regain control of their own country,…. that is how we will achieve a more sustainable victory."
The San Bernardino mass shootings have shocked Americans to the core. There is mounting evidence that the pair responsible were "lone wolf" assailants who may have been radicalised by ISIL propaganda although not directed by them. By acting independently it made them more difficult for the authorities to track them. Obama's message above everything was to call on Americans not to give into fear.