ISIL claims San Bernardino attackers were its followers
Comments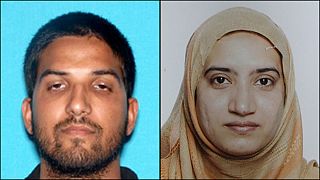 In an online radio broadcast, ISIL claimed on Saturday that California killers Syed Rizwan Farook, 28, and his wife Tashfeen Malik, 29, were followers of the jihadist, militant group.
The declaration came three days after the couple shot dead 14 of Farook's colleagues at a holiday party in San Bernardino.
The FBI has already confirmed that it is investigating Wednesday's slaughter as an "act of terrorism".
Malik is said to have pledged allegiance to ISIL's leader.
Farook reportedly had contact with militant groups, including al Qaeda's Syria-wing, the Nusra Front.
And at the young parents' apparently normal home, many weapons were found.
Those living nearby are still in a state of shock.
"This is insane. This is right across the street. And they have too many bombs," said Andrea, a local resident.
"It is scary. This is a quiet community. Very quiet, very subdued, very nice. Everybody knows everybody and would not expect this to happen right down from your house," said fellow local David.
Following their deadly gun attack, the couple were themselves killed in a shootout with police.
While hailing the massacre, ISIL did not claim to have organised it.
President Barack Obama vowed on Saturday in his weekly radio address that federal investigators would find out what motivated the married couple to attack.
"We know that ISIL and other terrorist groups are actively encouraging people around the world and in our country to commit terrible acts of violence, often times as lone wolf actors," he said.
"And even as we work to prevent attacks, all of us – government, law enforcement, communities, faith leaders – need to work together to prevent people from falling victim to these hateful ideologies."
Obama said the US would 'not be terrorised' but nerves are frayed.
A local depot of package delivery company UPS was evacuated on Friday and the bomb squad called in when a parcel addressed to the couple was found.
It turned out to be safe.