A lament for Mother Earth - indigenous peoples demand say in environment protection
Comments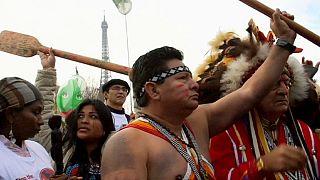 A musical lament calling for the respect for Mother Earth could be heard as a group of indigenous people's representatives staged their own waterborne demonstration on the sidelines of the United Nations climate conference on Sunday. .
During their trip down the River seine they signed a paddle symbolising their solidarity.
Representing Panama,one man said, "we are on this boat to sign a pact among all the indigenous peoples. We want to protect Mother Nature, to save our earth our plant."
The group with members from North and Central America, the Amazon , and Indonesia claim that indigenous people know how to maintain a true environmental balance.
A young pregnant woman from Hawaii said:
"I'm carrying the next generation. They're begging for a change. The question is when are we ready? When are we ready to truly make that change? There is no time left. The time is today."
Negotiators at the Paris climate change conference have this weekend drawn up a 43-page "draft agreement"http://www.theguardian.com/environment/2015/dec/05/paris-climate-change-talks-draft-french-summit on reducing global warming. The politicians now have until Friday to resolve numerous points of dispute and produce the final accord.
One issue concerning hundreds of indigenous people is the destruction of the rain forests. The Amazon rainforest represents over half of the planet's remaining rainforests, and comprises the largest and most biodiverse tract of tropical rainforest in the world. 60% of the forest is contained within Brazil, followed by Peru with 13%, Colombia with 10%, and with minor amounts in Venezuela, Ecuador, Bolivia, Guyana, Suriname and French Guiana.
What will the world be like with 3°C warming? Melting ice sheets, dying rainforests and 72 million displaced people: https://t.co/4NUQVmxpK8

— Oxfam (@oxfamgb) December 3, 2015
During the past 40 years, close to 20 percent of the Amazon rain forest has been cut down—more than in all the previous 450 years since European colonisation began. The percentage could well be far higher; the figure fails to account for selective logging, which causes significant damage but is less easily observable than clear-cuts. Scientists fear that an additional 20 percent of the trees will be lost over the next two decades. If that happens, the forest's ecology will begin to unravel. Intact, the Amazon produces half its own rainfall through the moisture it releases into the atmosphere.