Armenia votes to give presidential powers to PM
Comments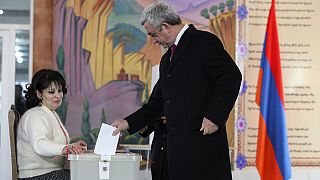 Armenia has voted in favour of giving more powers to the prime minister and parliament at the expense of the president.
The result was announced after 93 percent of the ballots were counted from Sunday's referendum. Officials say 63.5 percent voted in favour of the changes.
The opposition Armenian Bational Congress (HAK) has accused President Serzh Sargsyan of planning to extend his rule by shifting into the role of prime minister when his final presidential term ends in three years.
Although Sargsyan proposed the changes, he denied the opposition's claim.
His government promoted the change as a step towards a stronger democracy by providing a greater balance of powers in the former Soviet state.
The HAK has also alleged voting irregularities took place during the referendum and therefore has rejected the preliminary results.