Venezuelans vote as polls predict return of the right after 16 years out of office
Comments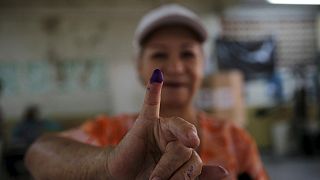 Venezuela may be on the verge of turning away from Socialism and electing a majority conservative government for the first time in 16 years.
Voting has been steady since polling stations opened and President Nicolas Maduro, although he has refused foreign observers, promises to respect the electorate's decision. Opinion polls say he is going to lose.
"The Bolivarian Revolution will respect the results of the elections that arise from the will of the people, whatever they are, in the most strict and impeccable way," he said.
Maduro had previously said he would never abandon the revolution, and 18 months ago his security forces killed 43 people when street protests erupted.
The wife of jailed opposition leader Leopoldo Lopez, Lilian, has become her party's leader. A big enough majority and she might be able to free her husband.
"Today I came to vote for my children. Today I came to vote for the freedom of all the political prisoners. Today I came to vote for a better Venezuela that starts today," she said.
The government has seen its support fall as basic necessities become hard to find in shops and the low oil price wrecks the country's finances. While still earning praise for some of its welfare programmes, many are disappointed by Maduro, and that his administration has run out of ideas.