She's the one! Lindsey Vonn claims three wins at Lake Louise
Comments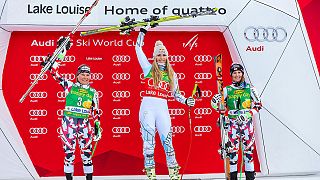 Why not ski for free with 'Gravity' as euronews sports correspondent Vincent Ménard guides us down the mountain.
"Hello and welcome to 'Gravity' our look at the wonderful world Alpine skiing.
Let's not talk about Lake Louise. Let's talk about 'Lake Lindsey,' Lindsey Vonn winner in Canada for the 18th time and for the third time makes it three wins out of three in three days.==
70th World Cup Win & 18th Win in SkiLouise</a> for <a href="https://twitter.com/lindseyvonn">lindseyvonn :) Many Congrats! #hattrick#LV70 ©GettyImages pic.twitter.com/Ny96qZc7Cg

— Lindsey Vonn Fans (@lindseyvonnfans) December 6, 2015
==
Super G, super Lindsey as the Vonn the bomb skies for her third consecutive victory in three days in Canada.
The Speed Queen has been irresistible since she first clipped into her skies to win Friday's Downhill.
She left a pair of Austrians her wake, Tamara Tippler came home second with Cornelia Huetter in third place.

70th victory and hat-trick for @lindseyvonn at #worldcuplakelouise ahead of Tippler +1.32 & Hütter +1.35.m congrats! pic.twitter.com/8LjdPOK5Wr

— FIS Alpine (@fisalpine) December 6, 2015
Lindsey Vonn now has 70 World Cup victories to her name…and rest assured there are more to come.

American Lindsey Vonn completes sweep at Lake Louise with super-G win https://t.co/NSRgiEaUOjpic.twitter.com/xIbpI7Ctxp

— Global Calgary (@GlobalCalgary) December 6, 2015
Let's head to Colorado for the Giant Slalom at Beaver Creek, the first run claimed its big name victims, Ted Ligety, Alexis Pinturault and Thomas Fanara eliminated. That leaves the gate open for Marcel Hirscher who led after run 1, but did he hold on.
Yes he did the Austrian picks up his second win of the weekend at Beaver Creek much to his delight and his many fans.
After his outstanding performance in Saturday's Super-G Hirscher was once again on the top of his game.
Hirscher now moves into second spot in the overall World Cup standings.
In second place the Frenchman Victor Muffat-Jeandet now in 14th place overall.
Third went to the Norwegian skier Henrik Kristoffersen.

#FISAlpine 2015-16 World Cup Men #BeaverCreek Giant Slalom 06.12.2015 Winner @MarcelHirscherpic.twitter.com/fUPz4GEc0O

— Mattu Sport (@COSPAZ) December 6, 2015
#FISAlpine 2015-16 World Cup Men #BeaverCreek Giant Slalom 06.12.2015 The Podium pic.twitter.com/6QCeQ0VXkm

— Mattu Sport (@COSPAZ) December 6, 2015
'Birds of Prey'
On Friday Aksel Lund Svindal picked up his third victory of the season. The Norwegian won the Downhill at Beaver Creek on the legendary 'Birds of Prey' course, beautiful but difficult according to Olympian Franck Piccard: "It has an unusual profile a gigantic wall at the start, with big curves and a good sun exposure. Then come the long flat sections, fake-flat lengths with huge jumps until the finish line.It's spectacular, it's intense and throws up a number of problems for the skiers. All the ingredients for a beautiful race."

Superbe Birds of Prey descente Beaver Creek dans quelques instants #bcworldcuppic.twitter.com/qbjcAFKTmx

— Top Ski News (@Top_Ski_News) December 4, 2015
A look back down the mountain
To win three races in three disciplines at the same ski-resort is rare indeed, not many have achieved it. A decade after Herman Maier did it a Swiss skier emulated the feat in 2009 at Beaver Creek.
His name, Carlo Janka, nicknamed the Iceman he started with the Super Combined leaving fellow Swiss Didier Défago in his wake.

Nach 20 Gestarteten: Svindal vor Jansrud in Beaver Creek. @carlo_janka derzeit 5. https://t.co/iW6KGpDBlgpic.twitter.com/AWlrvOasOk

— SRF Sport (@srfsport) December 4, 2015
The main course, the Downhill, and once again Janka outdid a compatriot this time Didier Cuche.
For dessert the Iceman won the Giant Slalom against the very
best Benni Raich, Aksel Lund Svindal , Ted Ligety and Kjetil Jansrud.
The Iceman Cometh and he cometh fast.

Feu vert pour les hommes, 60ème @Criterium1Neige - #valdisere#WorldCupValdiserehttps://t.co/pjYacNKeevpic.twitter.com/Z8B0j4kghq

— Val d'Isère (@valdisere) December 4, 2015
We'll be back next week with the 60th 'Critérium of the first snow from Val d'Isère. We leave you with some memorable images from Lake Louise and Beaver Creek.''
.@lindseyvonn skies into first place by 1.16 seconds in World Cup downhill at Lake Louise! #worldcuplakelouisepic.twitter.com/GoMSuXaBVP

— NBC Sports (@NBCSports) December 5, 2015
Here we go again! ☺️ #bib2#ready#weareskiing#verleihtflügelpic.twitter.com/j6aeo7o41b

— Marcel Hirscher (@MarcelHirscher) December 6, 2015