Japan's judoka shine in the Land of the Rising Sun
Comments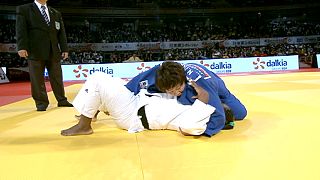 Japan is synonymous with Judo and the Judoka from the Land of the Rising Sun have absolutely dominated the tatami at the ''Tokyo Grand Slam'':http://www.intjudo.eu/fo-AlapFeladat#.

Nice picture! Japanese medallist could meet with their fans today at the Tokyo Metropolitan Gymnasium #engagementpic.twitter.com/C4sg9Aagd5

— nipponjudo (@nipponjudo) December 5, 2015
The final day of competition went the way of the rest with Japan winning golds in four of the finals.
The total haul of 11 golds from the 14 on offer confirms the home nation's dominance in both the men's and women's competition.

Mashu Baker and Hisayoshi Harasawa both took 3 Grand Slam this year. #amazinghttps://t.co/RodxdlPiJs@ejudopic.twitter.com/RhcffPHlGp

— JudoInside.com (@JudoInside) December 6, 2015
Ryunosuke Haga supreme at Tokyo Grand Slam https://t.co/Xb1mzybrO8 Haga confirms supremacy @gaaaaha@ejudopic.twitter.com/UzhUFqIOgn

— nipponjudo (@nipponjudo) December 6, 2015
Hisayoshi Harasawa grabs last gold in IJF World Tour 2015. https://t.co/dBoWkQ7UbV Japan dominates Grand Slams 2015. pic.twitter.com/XLc3h1RImq

— JudoInside.com (@JudoInside) December 6, 2015
In the women's +78 category the current Olympic champion Cuba's Idalys Ortiz tried to get to grips with Japan's very own Nami Inamori.
Inamori likes dueling in Tokyo she won last years Grand Slam and this year was no different with Inamori immobilising the Cuban for ippon.
The bout ended the career of the celebrated Cuban coach Ronaldo Veitia.
In the women's -78 class former world champion and current Olympic champion Kayla Harrison from the United States lived up to her billing as top the class.
She beat the in form Dutch Judoka Guusje Steenhuis by yuko on o-uchi-gari, for a rare US gold.

@Judo_Kayla on the attack. pic.twitter.com/2k8vXrkPAM

— Jerry Solomon (@JerrySolomon_SG) December 6, 2015
Euronews correspondent Pedro Lasuen is in Tokyo:
"It's been three days of intense dueling and tradition here at the temple of judo.
The Grand Slam of Tokyo closes a season of high quality judo and a great platform as the judoka prepare for the supreme goal: the Olympic Games in Rio.
It is now time for contemplation before the Judo family moves to Cuba, for the Grand Prix of Havana at the end of January, Sayonara."