Venezuela: Ruling Socialists set to lose parliamentary polls as recession bites
Comments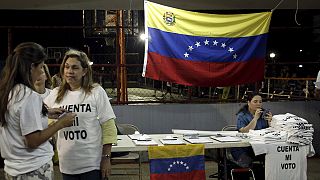 What would Hugo Chavez think?
The Socialist party founded by the late Venezuelan leader is widely expected to lose control of parliament in Sunday's elections amid voter frustration over chronic shortages, soaring prices and a shrinking economy.
Some are keeping the faith.
'I want continuity really of what the government is doing' said nurse Jenny Parra in the capital, Caracas.
But continuity is the last thing on the mind of retired architect Rafael Alvarez.;
"We can't take it anymore," he complained.
"The desperation of the people has reached its peak, there is crime and shortages of basic goods."
Victims and killers: Venezuela youth at sharp end of crime https://t.co/O6JuJRcc6spic.twitter.com/yQi80ZSUqd

— @ReutersVzla (@ReutersVzla) 2 Décembre 2015
If the Socialists' rivals do win their first legislative majority in 16 years, that would be good news for political opponents put behind bars. With a simple majority, the opposition could pass amnesty laws to try to free jailed politicians.
The wives of three imprisoned leaders spokes out at a student forum.
Lilian Tintori, married to jailed opposition leader Leopoldo Lopez, says that for now he must, at least, be allowed to vote.
"With this vote, there will be a before and after in Venezuela. With this vote, the light begins," she said.
"The dawn of a new era begins, a new era where we all have to work together, united, in peace."
Some fear polling may be marred by fraud and corruption.
Hence a plea from six former Latin American presidents who made the trip to Caracas to call for a free, fair and transparent election