Russian tourism hit by ban on Turkey holidays
Comments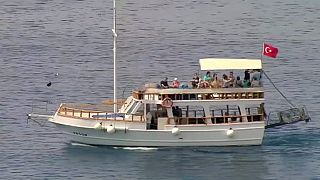 The tourism industry in Russia say losses from the ban on holidays to Turkey could be worse than those suffered as a result of losing Egpyt as a destination.
The travel restriction was imposed a week ago after a Russian plane was shot down on the Syrian-Turkish border.
Travel agents in Russia say they're finding it difficult to find affordable alternative destinations for their customers.
"No other destination can compare with Turkey pricewise. Greece is the cheapest destination in Europe", said Larissa Akhanova, Director of Public Relations for Tez Tours. "But it still can't compare with Turkey. It's a big problem for tour operators since it's extremely difficult to find a place like Turkey at a similar price."
Nearly four million Russians visited Turkey last year, with all-inclusive packages costing as little as 460 euros.
"It's really sad because we like the people and the country itself," said Aleksandra Gerasimova, a resident of Moscow who has been to Turkey with her family. "And now we'll have to look for other options and that looks like a tough thing to do."
The row over the shooting down of the Russian plane has resulted not just in a visa-free travel ban. Other sanctions include barring certain food imports and several joint business ventures.
It may all settle down eventually, but for now Turkey will have to look for visitors from other parts of the world.