Hundreds march in support of 'alternative climate summit' in Paris
Comments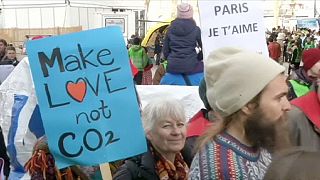 As the global climate change talks continue in Paris hundreds of people took to the streets in the east of the French capital to draw attention to alternative solutions to global warming.
The rally was held on the sidelines of an "alternative summit" which is holding debates and workshops to discuss different ways of cutting carbon emissions.
Mathieu Dore who is coordinator for the "International village of alternatives" said:
"Solutions to the climate crisis already exist… The the idea is to take the message to the streets to make the general public aware that there are other alternatives and they are not sad, it is not going back to the stone age or to using candles. And moreover, we can change things easily, we can adapt with alternatives to save the climate in easy and happy ways."
One of those ways is to "eat less meat"http://www.theguardian.com/environment/2014/jul/21/giving-up-beef-reduce-carbon-footprint-more-than-cars. Latest research says agriculture causes 15% of all emissions, half of which are from livestock. Experts claim eating less red meat would be a better way for people to cut carbon emissions than giving up their cars.