California shooting: First picture of killer wife as FBI probes 'act of terrorism'
Comments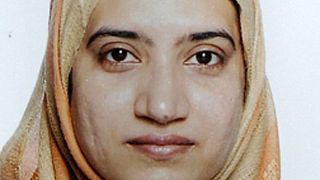 She is said to have pledged allegiance to ISIL's leader.
He reportedly had contact with militant groups, including al Qaeda's Syria-wing, the Nusra Front.
At the young parents' apparently normal home, many weapons were found.
Investigations into the couple behind the San Bernardino massacre in California still have a long way to go
But the FBI was confident enough on Friday to make this judgement about Tashfeen Malik, 29, and her husband Syed Rizwan Farook, 28, who gunned down 14 of his colleagues, before being killed in a shootout with police.
"As of today, based on the information and the facts as we know them, we are investigating these horrific acts as an act of terrorism," FBI investigator Dave Bowdich told reporters.
These are the 14 victims of the San Bernardino massacre - @LesterHoltNBChttps://t.co/wMIwFv5mgy

— NBC Nightly News (@NBCNightlyNews) 5 Décembre 2015
At the Islamic Centre of Riverside, where the couple celebrated their wedding reception, the impact of the shooting is being felt personally by programme director Salhin Kondoka, whose wife was one of those injured in Wednesday's shooting.
"For me, this is just a crime," he said.
"I do not really connect it with the faith. This is an act of terrorism…a crime against humanity, killing innocent human beings…Faith has no place for it."
However America's Muslims fear their religion will be demonised and that Islamophobia will spread after what looks like being the deadliest terror attack on US soil since September 11, 2001.
Two days after the shooting, a Reuters/Ipsos poll showed 51 percent of Americans view Muslims living in the United States the same as any other community, while 14.6 percent were generally fearful of Muslims.
Exclusive: Most Americans see Muslims like any other group after California shooting - poll https://t.co/oaJncrzCLUpic.twitter.com/Ltvf6OJE7B

— Reuters Top News (@Reuters) 5 Décembre 2015