Brazil: Despite setbacks, President Rousseff vows to fight impeachment
Comments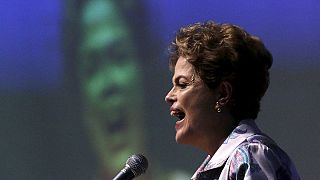 Brazilian President Dilma Rousseff has vowed to continue to defend her mandate. This, in spite of the Supreme Court quashing appeals from the leader's supporters to stop impeachment proceedings against her.
Speaking from the capital, Brasilia, Rousseff said she would use all legal means possible to combat the process, adding:
"All the decisions made by my government were under the principle of responsibility of the public body. Because of that, the impeachment process against me has no basis. I will defend my mandate with every constitutional instrument included in our democratic state."
The lower house of Congress officially opened the impeachment process, which is based on allegations Rousseff's management of Brazil's budget in 2014 was illegal.
The president has always denied any wrongdoing.
Every cloud…?
Another setback for the president came in the form of the resignation of her main coalition ally, Aviation Minister Eliseu Padilha.
But stocks jumped in Latin America's largest economy, with investors hoping Rousseff may now be forced to adopt more market-friendly measures after she adopted policies experts insist worsened the country's economic slump.
Despite suffering a big drop in popularity, the leader is expected to survive the process as her party and allies appear to control enough seats to eventually defeat those in favour of impeachment.