Mexico: 'Breakthrough' in mystery over Aztec rulers' remains
Comments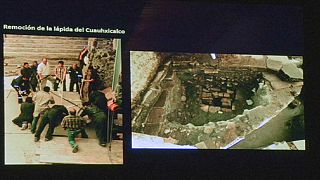 Where did the ancient Aztecs lay their rulers' remains to rest?
The answer may be at Mexico City's Great Temple or Templo Mayor ruins complex, where a team of archaeologists have made a tantalizing discovery – a passageway leading to a ceremonial platform and what are thought to be sealed, royal burial chambers lying beyond.
"If our hypothesis is right, it would be a great discovery, because we don't know of any tomb of a Mexica king, compared to others from different Mesoamerica civilisations." said Leonardo Lopez Lujan, leading the team of archaeologists at the site.
The theory is that the Aztecs may have cremated their dead rulers on the circular platform and then stored their remains in the sealed spaces at the end of the tunnel-like passageway.
Mexico experts: passageway may lead to Aztec ruler's tomb https://t.co/716YEMa5Supic.twitter.com/wPc4m3oYLR

— Telegraph News (@TelegraphNews) December 2, 2015
The warlike and deeply religious Aztecs came to power in the 14th century, ruling a sprawling empire that, at its height, stretched from the Gulf of Mexico to the Pacific Ocean before the Spanish conquest of 1519-1521.