Clashes erupt amongst asylum seekers in Greece
Comments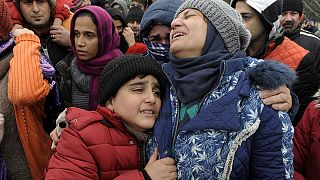 There were chaotic scenes at the border of Greece and the Former Yugoslav Republic of Macedonia (FYROM) on Friday (December 4).
On the Greek side, riot police struggled to keep control after clashes erupt amongst people looking to travel further north and claim asylum protection.
Only Afghans, Iraqis and Syrians were being allowed across the frontier because they are more likely to be granted asylum.
But they've been pelted with rocks by other nationalities, frustrated at being held back.
They too want to head north to more prosperous European nations.
Meanwhile the Italian coastguard said rescuers have pulled almost 2,000 migrants from boats trying to cross the Mediterranean Sea in just one day: Thursday (December 3).
Many set sail from Libya in rickety boats provided by people smugglers.