Greece asks for EU help with refugees
Comments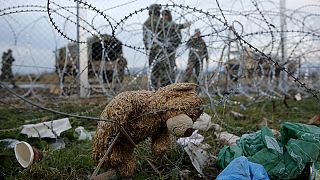 Greece has asked for more EU help to deal with the influx of refugees to its shores.
It activated on Thursday the bloc's so-called Civil Protection Mechanism, an EU scheme set up in 2001 to improve cooperation among national civil protection authorities across Europe.
The government says it won't be kicked out of the EU's passport-free travel zone.
But officials are already drafting a plan to bring back some border checks
"We don't even think that Greece could ever be out of Schengen. This would mean the collapse of Schengen of Europe," said Ioannis Mouzalas, the Greek minister for migration.
Senior officials in Brussels have been briefing that there was frustration amongst some EU member states that Greece had not sought help in the past.
Mouzalas told euronews that those reports were "a lie", insisting Athens had asked for reinforcements from Frontex, the EU's border agency.
EU interior ministers meet on Friday where they will consider further measures to deal with Europe's migration crisis, including internal border controls.