UK MPs back Syria airstrikes: the arguments for and against
Comments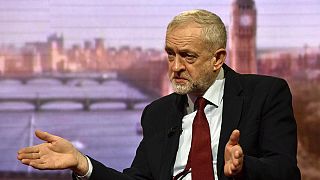 After many hours of impassioned debate the British parliament voted to authorize the Royal Air Force to strike ISIL's positions in Syria. Bombing started within hours– 397 to 223 MPs agreed that the so-called Islamic State should be attacked. UK prime-minister and the Conservative party leader David Cameron managed to gather support not just from his own deputies but also from the opposition: 67 Labour MPs voted for airstrikes, while 152 voted against.
The debate went on for 10 hours late into the night with security tightened around the parliament building where anti-war protesters demonstrated raucously waving flags and shouting anti-government slogans into megaphones.
Here is the list of points made by those in favour and those against the #syriastrikes
David Cameron, prime-minister:
Cameron's support for airstrikes was based on one underlying argument – Britain's security. Even though he agreed that "the long term solution in Syria – as in Iraq – must ultimately be a government that represents all of its people, the question at the heart of Wednesday's debate was simple. "We face a fundamental threat to our security."
He also stressed that the UK cannot let other countries do its job. He underlined that his decision was based on communications with "our allies – including President Obama, Chancellor Merkel, President Hollande and the King of Jordan."
Cameron argued that there is a clear need to go after terrorists who are "plotting to kill British people". "Or do we sit back and wait for them to attack us?" – he asked rhetorically.
PM agreed that inaction was a choice but in his view – a wrong one.
"We face a clear threat.
We have listened to our allies.
We have taken legal advice."
Cameron's speech in full on Facebook.
Jeremy Corbyn, leader of the Opposition:
Labour's controversial leader had allowed his MPs a so-called "free vote" where they did not have to follow a party line. He had announced prior to the debate that he would be voting against the airstrikes and published an extended article in the Guardian newspaper on the subject.
Even though Corbyn broadly agreed that ISIL needed to be defeated he claimed that David Cameron failed to explain why UK's airstrikes in Syria would have a military impact. So far, he argued, being bombed by other powers – the US, France, Russia and others had failed to stop ISIL gaining territory.
Labour leader also said that the British bombing would do nothing to contribute to a political resolution in Syria. He reminded the public that ISIL "grew out of the invasion of Iraq, but it has flourished in Syria in the chaos and horror of a multi-front civil war".
Corbyn's article in the Guardian.
Phil Hammond, Foreign Secretary:
UK's foreign minister argued in his speech that Britain was "a top-tier threat" for a terrorist attack and that airstrikes would not make the country any more vulnerable to threat.
"In 2014, there were 15 external ISIL attacks. This year there have been 150." Like the prime-minister, Hammond stressed that Britain had a responsibility to its allies to support them.
"Having Britain involved in air strikes will save lives," he said.
Hilary Benn, Shadow foreign secretary:
Hilary Benn became the real star of the night with his speech in favour of the airstrikes which many MPs praised and compared him to Churchill for vision and perspective. Not only Benn went against his party leader, Jeremy Corbyn, but he also managed to take a few Labour MPs with him.
Some parliamentarians claimed he made a much better case for the strikes than the PM himself. Benn stressed that ISIL threatened the international system of security established after World War II – he reminded that it was the Labour party who helped to found the UN.
"The carnage in Paris brought home to us the clear and present danger we face from them. It could just as easily have been London or Glasgow or Leeds or Birmingham and it could still be," said the Shadow foreign secretary. "Our party has always stood up against the denial of human rights and for justice and my view, Mr Speaker, is that we must now confront this evil. It is now time for us to do our bit in Syria and that is why I ask my colleagues to vote in favour of this motion tonight."
Labour MP Stella Creasy tweeted afterwards that she had been undecided on the issue but voted in favour of the strikes after Benn's speech:
Hilary benn's speech has persuaded me that fascism must be defeated. I will hold public meeting on Sunday to discuss #syria

— stellacreasy (@stellacreasy) 2 Décembre 2015
Liberal Democrat leader  Tim Farron:
Tim Farron also supported the airstrikes but confessed that was the toughest decision he had had to make as an MP.
"If we were just being asked to bomb Syria I'd be voting no, I'd be out there demonstrating in between the speeches, I'd be signing up to those emails from the Stop the War Coalition. But this is not just a case of bombing, this is standing with the United Nations and the international community to do what is right by people who are the most beleaguered of all."
Scottish National Party:
SNP deputy leader Stewart Hosie said he was disappointed by the outcome of the parliamentary vote. 
"We did not believe the case had been made by the government," he stressed, adding that his party wanted "absolute international legality and certainty".
Hosie added that Labour was divided and shadow foreign secretary Hilary Benn's speech "humiliated" Jeremy Corbyn.
Another Labour defector was Margaret Beckett, the former Labour deputy leader, who was briefly foreign secretary at the end of Tony Blair's time in office. Before Wednesday she had not said how she would vote but in a speech in parliament on Wednesday said she strongly supported airstrikes.
"Britain is an ISIS target anyway," she said. "It is wrong to do nothing."
"Military action does create casualties, however much we try to minimise them. So should we on those grounds abandon action in Iraq, even though undertaken at the request of Iraq's government and it does seem to be making a difference? Should we take no further action against Daesh, who are themselves killing innocent people and striving to kill more every day of the week? Or should we simply leave it to others?"
At the same time, not all Conservative MPs went with David Cameron in supporting the airstrikes.
Conservative MP Dr Julian Lewis said he would vote against the proposals because of "the absence of credible ground forces, as ineffective and potentially dangerous, just as I voted against the proposal to bomb Assad in 2013".
John Baron, a Conservative MP and member of the foreign affairs committee, was behind the cross-party amendment opposing airstrikes. In his speech he said that he was no pacifist, but that he was concerned about the absence of an overall strategy for tackling ISIS.
"The short-term effect of British airstrikes will be marginal. But as we intervene more, we become more responsible for the events on the ground and lay ourselves open to the unintended consequences of the fog of war," he said.