Russia moves to reconnect electricity to Crimea
Comments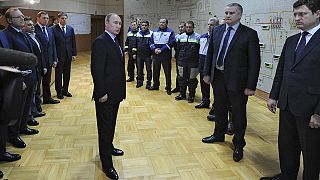 Vladimir Putin has promised to restore electricity to Crimea after making a surprise visit on Wednesday night.
The peninsula's been without power for ten days after pylons in Ukraine were blown up.
In response, the Russian president launched a 100km power line to connect Crimea to Russia's energy system.
The work to make Crimea energy independent includes a plan to build two power stations in the cities of Simferopol and Sevastopol.
Up to two million people were seriously affected by the outtage as they had to rely on emergency generators and candles for power and light.
So far, ethnic Tatar activists and Ukrainian nationalists have blocked repair teams. They both want Moscow to release people they regard as political detainees.
The row has further strained ties between Kyiv and Moscow, which has suspended coal exports to Ukraine in retaliation.