Protesting Russian truck drivers block roads in to Moscow
Comments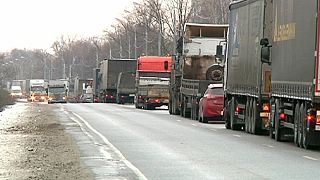 Russian truck drivers are continuing to protest over a government plan to introduce new road tolls that they say will put them out of business.
Hundreds of vehicles have started to block highways around Moscow demanding that the planned levy be abolished.
The drivers say the toll will increase their costs by around 15 percent.
Haulage companies owner-drivers will have to install electronic devices that measure the distance traveled, or else pay in advance.
"The money will end up just as they planned. Where? In the hands of the those who already have billions, and still it's not enough for them," said trucker Vladimir Kutsy.
The government insists the money will be used to offset damage caused by heavy vehicles to the roads but many think the scheme will simply lead to corruption.
Non-payment could result in heavy fines under the current plans.