Europe's LISA Pathfinder begins search for ripples in space
Comments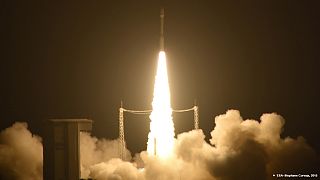 A rocket carrying a European prototype satellite has blasted off from French Guiana.
The trailblazing Laser Interferometer Space Antenna, or LISA spacecraft as its commonly known, will search for ripples in space and across time – a phenomenon predicted but never proven by physicist Albert Einstein 100 years ago.
The ripples, known as gravitational waves, are caused by massive celestial bodies warping space, similar to a bowling ball rolling across a trampoline.
The ESA mission, which costs around 400 million euros, is scheduled to last six months.