Aung San Suu Kyi holds transition talks with Myanmar president
Comments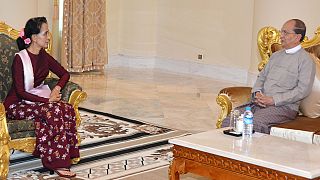 Myanmar's pro-democracy leader Aung San Suu Kyi has held talks with the country's president Thein Sein to discuss the smooth transfer of power to her party.
It is the first time the pair have met since Suu Kyi's National League for Democracy won a massive victory in November's landmark election.
Few details have been released of their talks but the president's spokesman Ye Htut said the 45-minute discussion was centred on a "good transition of power in order to set an example for a young democratic country like ours."
But workable ties with the military will be crucial for Suu Kyi's party.
Among the Nobel laureate's first post-victory moves was to ask for reconciliation talks with reformist ex-general Sein and armed forces supremo Min Aung Hlaing, whose military runs the interior, defence and border affairs ministries under a constitution drafted before the end of its half-century rule.
The constitution enshrines a power-sharing agreement between the armed forces and an elected ruling party, regardless of the size of its public mandate.
The military argues that is necessary to protect a fledgling democracy and maintain peace, but it means the NLD will need military support in governing an underdeveloped country with an outdated bureaucracy, weak infrastructure and ailing healthcare and education sectors.
Suu Kyi, 70, wants to work with the military but has been clear about wanting to change parts of the constitution, including a clause that bars her from becoming president because her two children are foreign citizens.