Tear gas protest hits Kosovo parliament ahead of Kerry visit
Comments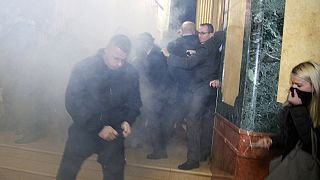 Kosovo's parliament was disrupted again on Monday.
Members of the opposition have been causing chaos by repeatedly releasing tear gas in protest at an EU-brokered deal with former master Serbia.
Three MPs were arrested over the latest incident which sparked chaotic scenes in the chamber.
The contested deal grants more local powers to Kosovo's Serb minority and the possibility of funding from Belgrade.
Opposition supporters have rioted several times on the streets of the capital, Pristina.
US Secretary of State John Kerry is due to visit Kosovo on Wednesday in a gesture of support for its development as an independent state.