Palestinians slam delay in Israeli court's verdict on murdered teen
Comments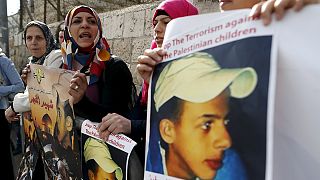 Palestinians have denounced an Israeli court's verdict on the murder of a 16-year-old Palestinian youth who was abducted in East Jerusalem and burned to death last year.
Two Israeli youths have been convicted of the murder but a ruling has been postponed on the alleged organiser of the crime pending a mental health review.
Prosecutors said the three had confessed to abducting, bludgeoning, strangling and burning Mohammed Abu Khudair in revenge for the killing days earlier of three Israeli youths by Hamas militants in the occupied West Bank.
Israeli youths guilty of murder after Palestinian boy was burned to death https://t.co/uz8nKHxWBR

— The Guardian (@guardian) 30 Novembre 2015
The incidents touched off a wave of bloodshed culminating in the seven-week Gaza war.
The verdicts, and eventual sentencing, could stoke tensions that are already high over access to a major Jerusalem mosque complex that Jews revere as vestige of their two ancient temples.
Jerusalem District Court ruled that the two under-aged defendants, whose names were withheld from publication, carried out the crime.
Yosef Haim Ben-David, a West Bank settler who works as a Jerusalem optician and who confessed to leading the crime, was also found guilty.
But the court deferred formal conviction over his lawyers' eleventh-hour request for a psychological evaluation.
Abu Khudair's family, fellow Palestinians and Israeli Arabs decried the delay as a miscarriage of justice.
Israeli officials welcomed Monday's verdict as a warning against hate crimes, which have surged as repeated bouts of violence eclipse peace talks with the Palestinians deadlocked since early 2014.