Kosovo opposition politician arrested over parliamentary tear gas protest
Comments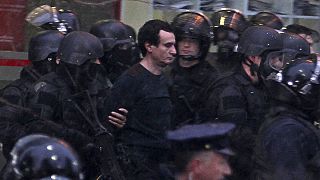 Armed police in Kosovo arrested opposition politician Albin Kurti on Saturday on charges of releasing tear gas in parliament in protest at an EU-brokered deal between Kosovo and its former master, Serbia.
Anger erupted as he was led from the headquarters of his opposition Self-Determination party in Pristina and
dozens more party members were detained.
The deepening crisis over relations between Kosovo and Serbia had already sparked riots earlier this month.
Kosovo declared independence from Serbia in 2008, a move rejected by Belgrade.
Prior to his arrest, Kurti addressed several thousand people gathered for a peaceful protest in Pristina against the accord under which ethnic Serbs in the majority ethnic-Albanian country will get greater local powers and the possibility of funding from Serbia.