IAAF President Coe gives up Nike ambassadorial role
Comments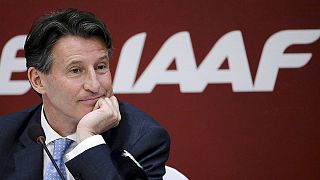 Sebastian Coe is stepping down from his ambassadorial role with Nike, the head of world athletics announced Thursday.
Coe worked as a Nike ambassador and was paid a retaining fee by the sportswear brand but faced questions about a potential conflict of interest.
An internal email leaked on Tuesday appeared to show Coe had lobbied former International Association of Athletics Federations (IAAF) president Lamine Diack to award hosting rights for the 2021 world championships to the American city of Eugene, to which Nike has close links.
Eugene was controversially awarded hosting rights for the event without a selection process in April, despite interest from the Swedish city of Gothenburg that was at the time in the process of preparing its case for a bid in November.
It was later revealed Diack had always supported the idea to award the championships to Eugene. The decision was made by the IAAF Council who voted, in secret, 23-1 with one abstention.
Coe also said that CSM, his own sports marketing firm, will not tender any contracts with the IAAF that might lead to a further conflict of interest.
The double Olympic medallist added he would step down as chair of the British Olympic Association after the conclusion of next year's Rio Olympics.
"I have sought advice from the IAAF's Ethics Committee to review my interests and was told I could retain my positions in Nike and CSM as long as I do not seek to influence any decisions that could influence them," said Coe at a news conference following an IAAF Council meeting.
"I'm grateful for that advice but it is clear that perception and reality have become horribly mangled.
"I've made the following decisions: I've stepped down from my ambassadorial role with Nike which lasted 38 years. The current noise level around it is not good for Nike or the IAAF and is a distraction."
The move comes after a member of the UK Parliament called on Coe to sever his relationship with Nike in order for him to continue in his role with the IAAF, and it emerged that UK Sport contributed £63,000 of public money towards Coe's presidential election campaign.