Belgium lowers state of alert in Brussels from maximum level
Comments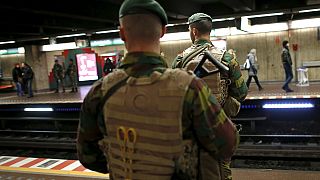 Belgium has lowered the security threat level in Brussels to three after nearly a week on maximum alert four.
The reduction from a very serious "imminent" threat to a serious possible threat brings the capital city in line with the rest of the country.
The decision came hours after emergency crews attended a major mosque in Brussels to investigate a suspect package that turned out to contain flour.
The hunt continues, meanwhile for Mohamed Abrini and Salah Abdeslam.
Abrinin was filmed driving a car with Abdeslam in northern France two days before the attacks.
Like several said to be involved in the Paris attacks, the pair come from the Brussels borough of Molenbeek where it has emerged authorities had a list of suspected jihadists more than a month ago.
The city's mayor Françoise Schepmans said the information was drawn up by several cities and passed on to federal authorities to carry out identifications, arrests and questioning but stressed procedures had to be respected.
Some 200 extra soldiers are guarding Brussels metro stations and an additional 300 police have been drafted in from elsewhere to protect schools in the city, causing knock-on effects across the country.
Thursday's Europa League football match between Club Bruges and Italy's Napoli is to be played behind closed doors because police cannot manage the crowd.
However, the weekend's Davis Cup tennis final between Belgium and Britain is due to go ahead as planned in Ghent, west of the capital.