Ukraine and Russia clash again over gas pricing
Comments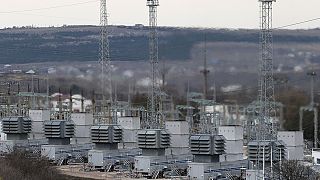 Another round in the almost annual row over gas pricing has begun between Russia and Ukraine.
Russian exporter Gazprom has announced its halting deliveries to Kyiv until it receives a new prepayment.
In response, Ukraine's Prime Minister Arseny Yatseniuk says the country will look elsewhere for supplies.
"We've taken this decision primarily because we've received better offers from our European partners which were significantly better than those from our eastern neighbour."
For now Kyiv says it doesn't need any more Russian gas and will guarantee the transit of piped Russian gas bound for Europe.
The European Commission says it is not concerned right now, even though it relies on Russia for about a third of its gas.
Moscow and Kyiv have clashed repeatedly over recent years and Russia's annexation of Crimea has severely strained ties.
Tensions put under renewed pressure by Ukraine's decision to close its airspace to Russian flights.