Pope calls for religious reconciliation at the start of African tour
Comments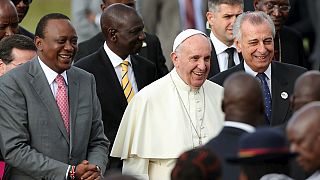 Pope Francis was given a warm welcome when he arrived in Kenya at the start if a three nation trip, his first ever to Africa.
His tour will also take in Uganda and the Central African Republic which is a country torn apart by Muslim-Christian strife,
On his arrival in Nairobi the Pope was met by President Uhuru Kenyatta, himself a Catholic, and gave an address urging everyone to heal Christian -Muslim divisions.
"To the extent that our societies experience divisions, whether ethnic, religious or economic, all men and women of good will are called to work for reconciliation and peace, forgiveness and healing," he said.
In Kenya about 30% of its people are baptised Catholics , and there is huge excitement around the visit. Later today (Nov.26) the Pope is expected to address climate issues when he visits the regional UN headquarters in Nairobi and then later more than one million people are expected attend an open air mass in the capital.
Kenyans give Pope Francis an enthusiastic welcome as he steps for first time on African soil
https://t.co/HDZtCTHRdypic.twitter.com/aprdwfHZK4

— America Magazine (@americamag) November 25, 2015
Africa's Catholic Church is expanding quickly , with the number of faithful expected to more than double to half a billion in 2050. The number of Muslims on the continent is also forecast to rise by about the same amount to 670 million.
Security will naturally be tight during the five day tour. Both Kenya and Uganda have suffered from Islamist militant attacks including the 2013 siege at Nairobi's Westgate shopping centre, which left at least 67 dead.
Potentially the most hazardous stop may be in the Central African Republic. Dozens of people have been killed there since September in violence between mostly Muslim Seleka rebels and Christian anti-balaka militias.