Germany will 'do more' to fight ISIL, says Merkel
Comments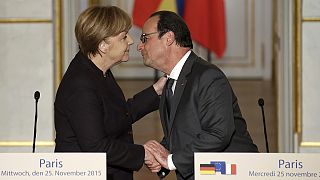 German Chancellor Angela Merkel says Berlin will do more to fight ISIL.
She was speaking ahead of a working dinner with the French president in Paris on Wednesday (November 25).
Germany earlier committed 650 soldiers to the UN peacekeeping mission in Mali and more troops to train Kurdish Peshmerga fighters in Iraq.
"Terrorism is our common enemy," said Merkel at a joint news conference with President Francois Hollande at the Elysee Paris. "It is our common job to fight it. ISIL can't be beaten by words, so we have to fight it using military means."
The two leaders earlier laid flowers at Place de la Republique in Paris, which has become a tribute site for the 130 people massacred in the November 13 attacks which has been claimed by ISIL fighters.