Britain's Webb wins Antarctic Ice Marathon
Comments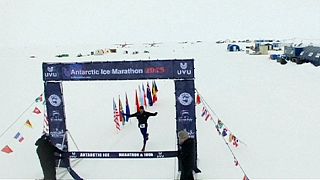 Muscle fiber usage went into fast-twitch overdrive for some 50 competitors who recently braved the chilling sub-zero temperatures of the Antarctic Ice Marathon.
With race temperatures averaging -20 degrees C, full balaclavas, goggles, long johns, various other thermal clothing and gloves and mittens were a must have to tackle the 26.2 mile madness.
After a 24 hour delay due to bad weather, the competitors set off on the course that comprised two laps around the Union Glacier exploration camp.
British research scientist Paul Webb won the men's race in stellar 3 hours, 35 minutes and 25 second.
In a remarkable effort British soldier Luke Wigman, who lost a leg in Afghanistan in 2011, crossed the line second.
Chile's Silvana Camelio, meanwhile, claimed the women's title in four hours and 40 minutes.