Watch: Kenyan Eliud Kipchoge becomes the first person to run unofficial, sub-two-hour marathon
Comments
By Euronews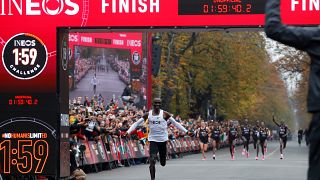 -
Kenyan athlete Eliud Kipchoge made history on Saturday by becoming the first person to run an unofficial marathon in under two hours.
The 34-year-old completed the 42.2 km course in 1:59:40.
"I am feeling good," Kipchoge said minutes after completing the run. "It has taken 65 years for a human to make history in sport. After Roger Bannister, it took another 65 years."
"I'm happy to be the man to run under two hours. No human is limited, and I'm expecting more people to do it after today," he added.
He also expressed gratitude to the team of pacemakers who relayed each other to help him, the last few falling back behind him during the last minute as it became clear he would break the two-hour barrier.
"The 41 pacemakers are among the best athletes in the whole world... to all of them I want to say thank you, thank you for doing the job. We made history together," he said.
This was the second attempt for Kipchoge, the world marathon record holder, after he narrowly failed in his first try in 2017 by running a marathon distance in 2:00:25.
But despite being successful this time around, his effort will not stand as the new world record as it was conducted outside an official, open competition and because of the race's conditions.
The event was held in Vienna, Austria, which was chosen in part because it provides a flat course. Kipchoge was also aided by 41 pacemakers, most of them medal holders from athletics World championships or from the Olympics.
Ahead of his record-breaking attempt, Kipchoge said that "to have a legitimate chance of breaking the two-hour barrier is really simple. It's actually believing and accepting that you can do it."
The International Association of Athletics Federations has congratulated Kipchoge for his achievement.
His achievement was also hugely cheered on in his home country with crowds gathered around large screens erupting with joy after he crossed the finish line.
President Uhuru Kenyatta offered his congratulations to Kipchoge, telling him he had "made Kenya proud".
"Your win today, will inspire tens of future generations to dream big and to aspire for greatness," he added.