'Abenomics' under scrutiny - Japan slumps back into recession
Comments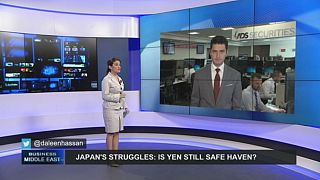 The Japanese economy shrank by 0.2 percent between July-September, Japanese government data showed last Monday.
Several reports have suggested reasons for the slide. These include reduced spending at Japanese companies, leading to lack of wage increases and a shortage in investments' promotion. Lower demand in China is another issue.
However, according to experts, the main reason is the Sales Tax hike that the Japanese government imposed last year. And there a plan to increase again next year.
On Thursday, the Bank of Japan (BOJ) confirmed that there would be no change in monetary policy.
BOJ Governor Haruhiko Kuroda is committed to trying to reach the target inflation rate of 2 percent as soon as possible, meaning that further stimulus measures may be implemented if necessary.
Japanese stocks closed slightly higher last week, The Nikkei index rose by 1.4 percent over the week, extending gains for the fifth week in a row.
After the BOJ meeting, the yen rose against the international currency basket, making gains on Thursday and Friday) – rising by 0.9 percent against the US dollar, by 1.19 percent against the euro, and by 1.24 percent against the British pound.
The yen also rose against the MENA currencies in MENA on Thursday and Friday, including rising by 0.80 percent against the Saudi riyal, and 0.89 percent against the UAE dirham.
Recession is a 'failure' for PM Abe – Analysis with Nour Eldeen Al-Hammoury, Chief Market Strategist, ADS Securities
Daleen Hassan, euronews: "Despite the continuing quantitative easing program, Japan has slid back into recession again. Why?"
Nour Eldeen Al-Hammoury, Chief Market Strategist, ADS Securities: "That is what we have been always warning about – that the continuation of the quantitative easing programs for too long will have a negative impact. The quantitative easing program in Japan is not new, it has been happening for more than 15 years- In spite of that, it hasn't been successful in supporting the economy as planned. This has been due to many reasons – the first reason is the nature of the Japanese consumer and the second one is the economic reforms. The government is trying to change the economy towards a consumer economy, and this is very difficult in Japan."
Daleen Hassan: What are the challenges facing Prime Minister Shinzo Abe in achieving his 'Abenomics'?"
Nour Eldeen AL-Hammoury: "Going back into recession for the second time in prime's minister mandate is considered a failure already. Besides, what the government promised has not happened. The economy has been suffering for more than five years now,
Will we witness a change of government? I do not think so, but there will be no more rises in the sales tax as planned next year. In addition, it is quite possible that we might begin to hear now about the the possibility of a government resignation – because this is the second recession during the rule of this government and it is the fourth consecutive recession during the past five years."
Daleen Hassan: "Japan's central bank has decided to keep its stimulus policy unchanged, despite high expectations last week that it would step up its quantitative easing program. Why do think that is?"
Nour Eldeen AL-Hammoury: "Yes, there is a very high probability that the Central Bank of Japan (BOJ) would prefer to wait the decision of the US Federal Reserve in December, before making any new resolution. Besides, the Yen is still in the preferred area by the bank. against the dollar at least. Now, what if the Fed moves in December, then we do not expect any new move by the Japanese central bank. But what if the Fed postpones raising interest rates? In this case, we expect that the Central bank of Japan will to intervene within two days of the Fed announcement to keep the yen's weakness."
Daleen Hassan: "You've been a believer in the yen as a safe haven for MENA investors. With the developments of the past week, do you still stand by that opinion? And can you elaborate a bit on how the yen has been trading in the Middle East"
Nour Eldeen AL-Hammoury: "As we mentioned last week, we still see the yen as a safe haven currency, in light of the continuing rise of the dollar. Despite the recent moves, we still see a high demand for the yen over the past period. And even with the latest figures, we are receiving high demands for yen across our platforms both in the Middle East and Asia, and in Europe as well – which explains why the yen is still considered a safe haven currency. There is also something else very important – since Black Monday, the Japanese yen has been the second most stable currency after the Chinese yuan for Middle East investors , which clearly keeps up the demand for both currencies."