Tunisia: Deadly bus blast kills at least 12
Comments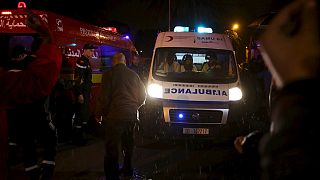 At least 12 people have died in what is thought to have been a suicide bomb attack on a bus full of Tunisian presidential guards.
The capital Tunis is now under curfew and a 30-day state of emergency has been announced.
Ambulances rushed at least seventeen wounded people from the scene of the explosion on Mohamed V Avenue, close to the Interior Ministry.
Authorities say the guards were boarding the bus to be taken to the presidential palace on the outskirts of the city.
It's the third major attack in Tunisia in 2015.
In March gunmen killed twenty one tourists at the capital's Bardo Museum, while in June an Islamist militant opened fire on foreigners at a beach hotel in the resort of Sousse.