France and US urge Russia to change tactics in fight against ISIL
Comments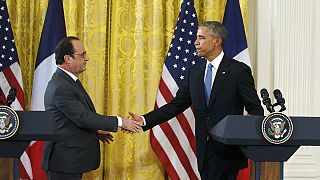 Barack Obama and Francois Hollande have repeated their call for a renewed international effort to degrade and destroy Islamic State militants.
The appeal came after talks between the US and French presidents at the White House in the wake of the Paris attacks.
Obama said Turkey's downing of a Russian fighter jet proved the need for greater coordination over Syria.
"President Hollande and I agreed that Russia's strikes against the moderate opposition only bolster the (Bashar) Assad regime, whose brutality has helped to fuel the rise of ISIL. We agree that Russia could play a more constructive role if it were to shift the focus of its strike to defeating ISIL."
Sentiments shared by Hollande who said: "The priority is to take back key locations in the hands of Daesh in Syria. It is also a matter of urgency to close the border between Turkey and Syria to prevent terrorists from crossing the border and coming to Europe or other places to undertake such terrible attacks."
Hollande, who has ruled out a ground offensive, will visit Moscow on Thursday to continue his drive for support.
Since the Paris killings, France has moved its flagship Charles de Gaulle aircraft carrier into the eastern Mediterranean to increase its air strikes against Islamic State targets in Syria and Iraq.