Mideast violence continues to surge ahead of Kerry visit
Comments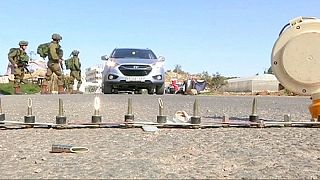 At least two people have been killed in another day of deadly violence in the West Bank.
In Jerusalem, two Palestinian girls attacked and slightly wounded an elderly man with scissors before a policeman shot them both, killing one. The 70-year-old victim turned out to be Palestinian.
In the occupied West Bank, a Palestinian man stabbed and killed an Israeli at a petrol station.
A Palestinian was also shot dead near the West Bank city of Nablus after approaching soldiers with a knife, according to the military.
On Sunday, an Israeli woman was stabbed to death and three Palestinian attackers were killed in a series of flashpoints in the West Bank.
The incidents are the latest in an eight-week surge of stabbings, shooting and deliberate car rammings that have claimed more than 100 lives.
The US Secretary of State John Kerry arrives on Tuesday for a visit to Israel and the Palestinian territories in a bid to stem the violence.