Brussels on third day of high security alert
Comments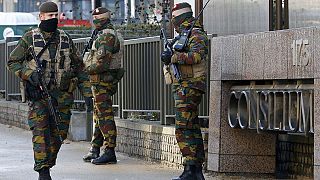 Brussels awoke on Monday morning after 19 raids and 16 arrests overnight and with Interior Minister Jan Jambon telling radio listeners that the public sector was open for business.
But within hours the capital's town hall was evacuated after an alert. The authorities are due to review the security situation on Monday afternoon.
"This morning I was supposed to go to the hospital in Saint Luc and I was surprised to receive an sms at one am in which it said that the meeting was cancelled, basically the city is locked and thank goodness Brussels is not so large," explained one person in the capital.
All schools, underground transport and museums remained closed on what is the third day of the hight security alert. The city's buses are running but there are few passengers.
Despite Sunday night's police swoops the key suspect Belgian national Salah Abdeslam has not been found. Many remain on edge.
"I'm a bit under tension, yes, tense but on the other hand I also feel secure. There is sufficient police and army around so that's fine," another resident told euronews.
All European Union buildings are open and are being guarded by the military.
It's been announced tennis's Davis Cup final between Britain and Belgium will go ahead as planned on Friday in Gent which is 55 kilometres northeast of Brussels.