Belgium extends maximum alert over 'imminent' threat
Comments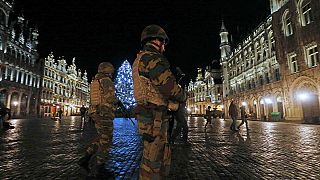 Belgian Prime Minister Charles Michel has announced that Brussels' terror alert status is to remain at the highest level. The rest of the country is to remain on a threat level of three, on the four-tier scale.
Speaking on Sunday evening after a meeting of security chiefs called to review the threat status, he said the Belgian capital's schools, universities and transport system would remain closed on Monday.
"The threat is considered to be the same as it was yesterday – serious and imminent. We're continuing to focus particular attention on the public transport system and I confirm that the decision has been made to keep the metro closed," said Prime Minister Michel.
A new evaluation of the situation is to be made later on Monday afternoon.
Our correspondent James Franey said " The Belgian authorities say they want to make sure that life in Brussels returns to normal as soon as possible. What is less clear at this stage is just how long this terror alert level will remain in place."
Belgium has been at the heart of investigations into the Paris attacks on November 13 in which 130 people were killed, after links with Brussels emerged.
Belgian Foreign Minister Didier Reynders explained:
"This threat is imminent and precise, because we actually fear that some terrorists, and we do not know the exact number of terrorists, could act and follow a modus operandi similar to what happened in Paris that is urban guerilla attacks with heavy weapons."
Throughout the weekend soldiers have been on guard in parts of Brussels which is a city of 1.2 million people and home to institutions of the European Union and the headquarters of NATO.
The government has advised the public to be alert but not panic stricken
Belgium maintains alert level due to 'serious and imminent' threat, https://t.co/lIr7iIn1k4pic.twitter.com/CCemNXbV82

— The Globe and Mail (@globeandmail) November 22, 2015