Argentina moves to the right as Mauricio Macri wins presidential poll
Comments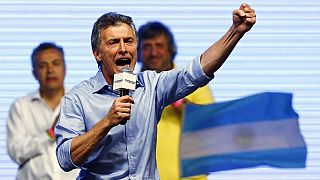 It was a celebration full of typical Latin American enthusiasm. Conservative opposition candidate Mauricio Macri has been confirmed as the winner of Argentina's presidential election.
With almost all votes counted Macri has taken 52% . His victory is the first in more than a decade for Argentina's centre-right.
"Today is an historic day. It's a change of era. And thats why this change can't be based on revenge or a settling of scores," declared Macri possibly reflecting on a campaign which had been marked by strong mutual attacks.
A month ago it looked as if Daniel Scioli was set to win, keeping the party of outgoing president Christina Fernandez de Kirchner in power .However in the weeks between the first poll and Sunday's run-off Macri
surged ahead with his business friendly policies.
His win stands as an indictment of De Kirchner's stewardship of Latin America's No3 economy which has been plagued with double-digit inflation, a widening of the fiscal deficit, and her confrontational style.
Mauricio Macri elected president of Argentina – The Washington Post https://t.co/FQ5P3×9DZf

— Irene Caselli (@irenecaselli) November 23, 2015