Anti-Russian protesters block repair of Crimean power lines
Comments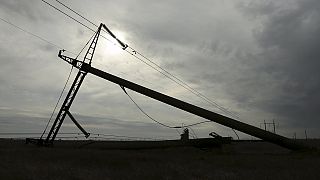 The Russian-annexed peninsula of Crimea will be starved of electricity for a third day after pro-Ukrainian activists prevented repairs to sabotaged power lines, leaving only essential services operating.
It comes after four pylons were blown up by unknown attackers over the weekend in Kherson, a region of the Ukrainian mainland controlled by Kyiv.
Our correspondent Maria Korenyuk said: "Moscow claims its working hard to speed up the construction of an energy bridge along the bottom of the Kerch Strait to Crimea. The first stage of the project should be completed by the start of 2016, the second by next summer."
Ukraine's Energy Minister Volodymyr Demchyshyn told euronews with the region is now at risk of falling into crisis work must be quickly done to restore power.
"There is significant damage to the network but as soon as we get secure access it should not take more than 72-hours to fix the problems," he said.
Most of Crimea's two million population has been affected. With a complete repair expected to take five days, Moscow has suggested it is considering counter-measures.