Four Israelis wounded in stabbing attack, say police
Comments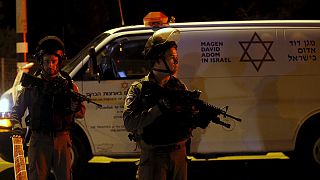 A Palestinian man has stabbed and wounded four Israelis in the southern town of Kiryat Gat, according to Israeli police.
It is claimed the suspect, from a village in the West Bank, was found in a garden with a blood-stained knife.
One Israeli suffered serious injuries and three others, including a 13-year-old girl, were in a moderate condition, said a hospital official.
There has been a wave of violence over the past two months, leaving dozens dead.
Palestinian allegations that Israel was trying to alter the religious status quo at a Jerusalem holy site, known to Muslims as the Noble Sanctuary, where al-Aqsa mosque stands, and to Jews as Temple Mount, have partly fuelled the violence.
A senior US official in Washington has said that Secretary of State John Kerry will meet next week with Israeli and Palestinian leaders to try to stop the ongoing violence, although he insisted it was not a renewed effort to broker a peace accord.